---
IFSR at BSA 2013 Jamboree
IFSR Exhibit Booth Greets Thousands
Suzane and Angus McFarlane show the way with IFSR Exhibit Booth at National Jamboree  
Angus & Suzanne McFarlane, life members of IFSR from Ada, OK, Sunrise Club, were so well prepared in managing our booth at the Bechtel Summit Reserve for the BSA 2013 National Jamboree that they made it look easy to handle! Along with a team of volunteers, they saw thousands of Scouts, Scouters and visitors during the BSA 2013 National Jamboree.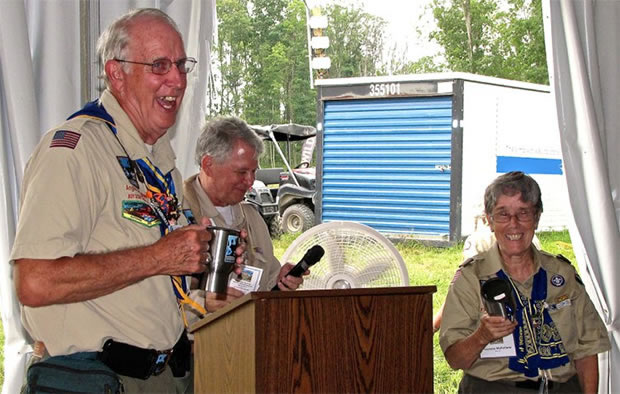 Dan O'Brien thanking Angus and Suzanne McFarlane of Ada Sunrise, OK, for co-chairing the Jamboree IFSR Exhibit.
Suzanne created a special slide presentation put together by her from prior Scouting Rotarians and other sources - a wonderful addition to our information program. Anyone wanting a copy can get it by thumb drive from Suzanne. Those in the booth invited Scouts to 'tie a knot and get a piece of candy' as the Scouts learned about Youth Exchange, Interact, etc.; adults learned of Scouting and Rotary joint opportunities and activities.
They recruited 18 new Annual Members and 11 new Life Members.  Welcome aboard to our new members!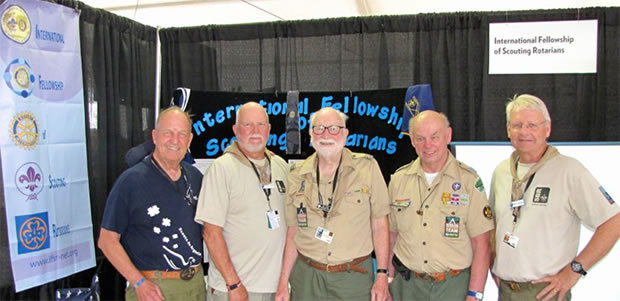 Brian Thiessen, Jon Richmond, Del Raby, Fred Brenner, and Brad Lindberg in IFSR Booth
Full time IFSR assistants included PDG Del Raby of Santa Rosa, California (who celebrate his 75th year in Scouting and 87th birthday on 21 July), Brad Lundberg of Stevensville, Maryland and Jonathan Richmond.
Others who volunteered in the booth, as their schedules allowed, included IFSR President Fred Brenner, IAR Chair Dan O'Brien, IFSR International Commissioner Brian Thiessen, William Davies, Robert Jackson, Patrick Lesley, Mark Milby, Bill Walker, Bob Westfall, Jack Young and Channing Zucker.
Wanted! Names of these visitors to the IFSR booth!

If you know who is with Del, please email the name and a brief bio.
If you know who is with Brian, please email the name and a brief bio.
Back to beginning of 2013 Jamboree article                                                  Back to top of Page
---
BSA CSE Brock Addresses IFSR at Jamboree
The InterAmerican Region/International Fellowship Of Scouting Rotarians (IFSR) conducted a Rotary luncheon meeting at the 2013 BSA National Jamboree on Monday, July 22nd.  A capacity crowd of 95 Rotarian Scouters attended the meeting which was highlighted by a talk by the BSA's Chief Scout Executive, Wayne Brock.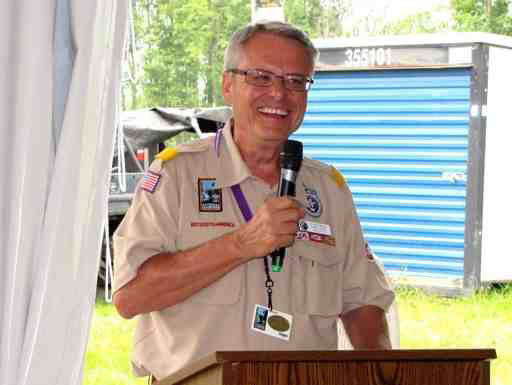 Chief Scout Executive Wayne Brock addressed the capacity crowd. 
Chief Wayne Brock related some of his own experiences with Rotary, as well as the values that he received growing up in a Scout troop in a small town… where joining Scouts wasn't much of an option.  Wayne also told of a volunteer who stopped in to see him at the time the volunteer was stepping down as Scoutmaster and shared that he had never been thanked by the boys in his troop, their parents or even the council.  That hit home and Wayne realized how important it is to thank volunteers who give so much, including thanking the Rotarians and others present for what they do for young people.
Wayne shared that when he became Chief Scout Executive, he went a step further and tracked down his own Scoutmaster from 50 years ago, found that he was still alive, and brought them to a national meeting as his guests to publicly thank them for what they did for him.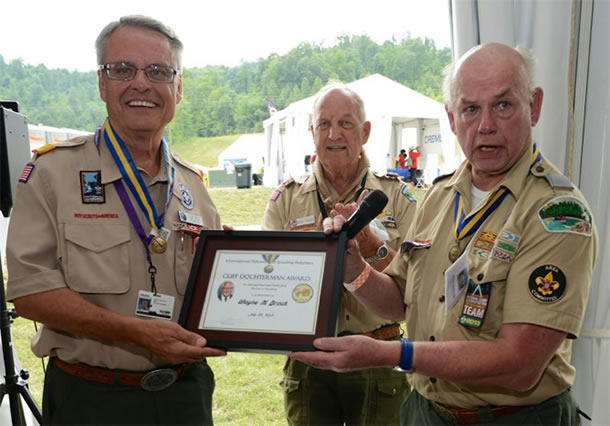 Chief Scout Executive Wayne Brock presented Cliff Dochterman award by International Commissioner Brian Thiessen and IFSR World President Fred Brenner.
World President Fred Brenner & International Commissioner Brian Thiessen then presented the Chief with the Cliff Dochterman Award, recognizing his years of service as a Rotarian, his generosity to the Fellowship by allowing our displays at national meetings and the jamboree, and his decades of service to Scouting.
---
IAR Chair Dan O'Brien (Rotary Club of Springfield IL South) chaired the luncheon.  A fabulous lunch buffet was prepared by the jamboree and included a wide variety of options… brisket, chicken, tofu, pork tender, sandwiches, soft drinks and tasty desserts.
Scouting Rotarians from across the country took part in the luncheon:
Angus McFarlane (RC of Ada OK Sunrise) led Pledge of Allegiance

Robert O. Jackson (RC of Anniston AL Morning) led Oath & Law

J. Houston Costolo, III (RC of Picayune, MS) gave the Invocation

DG John Powell (RC of Charleston, WV) gave greetings from WV

Charles Dahlquist (RC of Salt Lake City, UT) introduced the CSE

Suzanne McFarlane (RC of Ada Sunrise, OK) led the 4-Way Test
IAR Chair Dan O'Brien thanked everyone for coming.  He urged anyone who was not already a member of the fellowship to join, to have an enjoyable finish to the jamboree and a safe trip home.
Back to beginning of 2013 Jamboree article                                                  Back to top of Page
---
Steve Henning awarded IFSR Silver Wheel
Our IFSR Web Master Steve Henning, of Fleetwood, Pennsylvania, was surprised at the Rotary Meeting held at the 2013 BSA National Jamboree at Bechtel Summit Reserve by being presented the SILVER WHEEL certificate on behalf of IFSR Leadership. Steve was nominated for his history of regular active support of IFSR and the nomination was approved by the IFSR Awards and Recognitions Committee, chaired by Past IFSR President Bud Allison.
Brian Thiessen presented Steve Henning the Silver Wheel for years of service in his own Hawk Mountain Council as well as in IFSR Exhibit booths and as IFSR Webmaster for half a decade.
The SILVER WHEEL is for outstanding service to the International Fellowship of Scouting Rotarians over years of effort.
Steve is not only active in IFSR within his home Hawk Mountain Council, but has served in IFSR Exhibit booths at national and international Jamborees and Rotary Conferences, is the author of the widely read and appreciated On My Honor .. The Hawk Mountain Council Story 1908-2010 hardbound book, is one of our nation's leading experts in rhododendrons and azaleas (so much so that his email tells it all ( ) ... and has also served as IFSR's Web Master (http://www.ifsr-net.org) for more than half a decade.
IFSR salutes you, Steve, and thanks you for your tireless efforts on our behalf! You are indeed one of the Silver Wheels that makes IFSR roll smoothly!
Ironically, Steve was also the winner of the door prize, a beautiful Jamboree Pocket watch, donated by our International Commissioner, Brian Thiessen.
Back to beginning of 2013 Jamboree article                                                  Back to top of Page
---
More about the Jamboree
The Jamboree, held at the Boy Scouts of America's newest high adventure base in Beckley, West Virginia, showcased Boy Scouting and Venturing to 40,000 Scouts, leaders and volunteer staff. The 11,000 acre camp, known as The Summit: Bechtel Family Scout Reserve definitely raises the bar for modern extreme activities, including zip lines, canopy tours, whitewater rafting, mountain boarding, a skate park and much more.
Largely a walking camp, staff and Scouts alike generally walked five miles or more each day, traversing up and down the mountains of West Virginia. Visitors were shuttled in via a 20 minute bus ride and were required to participate in a Youth Protection orientation. Unfortunately, that made a quick, drop in for lunch by local Rotarians a challenge. Much was learned as we were introduced to a new paradigm and we begin thinking about the next BSA jamboree in 2017, followed by The Summit hosting the 2019 World Scout Jamboree.
More photos of the CSE Wayne Brock, the 2013 BSA Jamboree, the Rotary Meeting and the IFSR Booth are available at:
http://scouters.us/ifsr/2013BSAJambo/
Back to beginning of 2013 Jamboree article                                                  Back to top of Page