Stephen M. Henning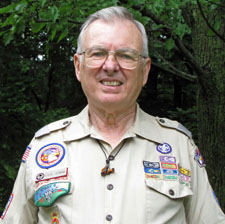 The webmaster of Scouters' Pages is Steve Henning. A 45-year veteran in Scouting, Steve is a Council Member at Large for Hawk Mountain Council, and served on staff at the BSA's Centennial Jamboree in Virginia in 2010 and at the World Centennial Jamboree in England in 2007. Having received his Wood Badge beads as a Beaver for both Boy Scout Wood Badge (NE-IV-70) and Cub Scout Wood Badge (NE-CS-39), Steve served on staff for 7 Wood Badge courses. Steve served as Hawk Mountain Council Office Manager for 3 years, Broad Mountain District Executive for over 10 years and served on staff at all National Jamborees since 1989 and World Jamborees in Korea, Holland and London. The former editor of the Herbie Hawk council newspaper and creator of the Herbie Hawk Web Page, Steve was ScoutNet coordinator; and staff adviser for the council's contingent to the 2003 World Jamboree, Wood Badge Training, Train-The-Trainer, "Wolf's Lair" Junior Leader Training, PowWow, Scoutmastership Fundamentals, Cub Scout Leader Basic Training, Youth Protection, Cub Scout Resident Camping, Commissioner's College, Risk Management Committee, National Jamborees and World Jamborees. He served on staff for Trail-to-Eagle Camp at Hawk Mountain Scout Reservation for 3 years. He holds the Scouter's Training Award, Scouter's Key, Distinguished Commissioner Service Award, District Award of Merit, Professional Training Award and International Scouter´s Award. Steve participated or served on staff in 10 conferences at the Philmont Training Center in New Mexico and is a James E. West Fellow, Heritage Society Member and Founders Circle Member. He has received Rotary International's Cliff Dochterman Award for service to Scouting. He is life member and webmaster for the International Fellowship of Scouting Rotarians (IFSR) and life member in the National Association of United Methodist Scouters (NAUMS).
In 2008, Steve was asked to edit the council's Memory/History book. It went to press in the fall of 2009, "On My Honor, The Hawk Mountain Council Story ... 1908-2010." For more information on this book visit http://scouters.us/book/Book.html
---
Directory to Contents of Henning's Scouter's Pages
---
Compatibility & Webmaster information:
These pages were created in Adobe GoLive, Adobe DreamWeaver, and BBEdit by . They have been successfully tested on computers, ipads, ipods, & iphones and with various browsers including Chrome, Firefox, Internet Explorer, Netscape, OmniWeb, Opera, & Safari. They have also passed the internet standards of the W3C validator tests. They are now translated into over 60 other languages by
Google
. Please report any problems to .