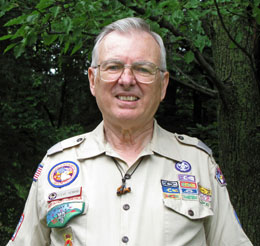 Editor
Stephen M. Henning
The Editor-in-Chief was Steve Henning. He researched copies of all local newspapers in local libraries and on line. He found a complete bound set of the Daniel Boone Council newsletters in the Reading Library. Hawk Mountain Council had open houses where people brought in photos, newspaper clippings, and stories from the past. Steve went to the homes of many local Scouters who had very significant collections of memorabilia and many stories. He was able to use his extensive collection of Scout books and back issues of Herbie Hawk. He researched the Hawk Mountain Council archives. He selected the best pictures and composed the text that told the story of Scouting starting and coming to the area that is Hawk Mountain Council today. He was very ably assisted in proofreading by his wife, Darlene, and David S. Fry. Darlene was adept at finding basic English errors while Davis was very kept at fact checking. The text was checked for readability by Susan Shelly. The text and photos were laid out for publication by Megan Tranquillo.
Steve's Scouting career began as a boy in Portland, Oregon, where he was a member of a Cub Pack. Although he didn't advance to Boy Scouts, he studied the Boy Scout handbook extensively. He gained outdoor experience during college, when he worked summers on a forest fire crew with the U.S. Forest Service.
After graduating from Oregon State University in 1962, Steve moved to Berks County, Pennsylvania to work as a physicist for AT&T Bell Labs at the Western Electric plant. Two troops asked him to lend his experience to their outdoor programs, and he soon was an Assistant Scoutmaster in Troop 113, Wyomissing, and later in Troop 429, Whitfield. He received the Scouter's Training Award, became Wood Badge trained, and served 16 years as an Assistant Scoutmaster.
Steve became a member of the Shikellamy District Membership Committee in 1984, and served as Assistant District Commissioner for troubled units. He helped start Tiger Cub groups and worked with troops and packs that were reorganizing. He was awarded the Scouter's Key, District Award of Merit, and Doctorate of Commissioner Science. Steve was forced in 1990 to decide whether to relocate for his job or choose another career path. When he was offered the position of District Executive of Hawk Mountain Council, his long time interest in Scouting became his new profession. His assignment to Broad Mountain District in northern Schuylkill County and the Panther Valley of Carbon County lasted more than 10 years.
In addition to his duties as District Executive, he also completed National Camping School and 10 conferences at Philmont Training Center. He has served on staff at all National Jamborees since 1989, and at World Jamborees in Korea in 1991, Holland in 1995, and England in 2007. He completed Cub Scout Trainer Wood Badge and served on staff for four professional Wood Badge courses. Steve's professional duties included editing the Council newspaper, Herbie Hawk, and advising Wolf 's Lair Junior Leader Training and Wood Badge training.
Steve was a member of the Council's professional staff from 2000 to 2002, when he served as office manager and set up the Council's ScoutNET computer facility. He retired in 2003, but remains actively involved in Scouting as a volunteer. Other interests include rhododendrons, traveling, photography, and Rotary International. A life member of the National Association of United Methodist Scouters and the Scouting Rotarians Fellowship, Steve is the recipient of several Scouting awards. He and his wife, Darlene, enjoy traveling, and have visited all 50 states and 85 countries as they pursue their interests in Scouting, Rotary, gardens, and photography.
HMC Book Project
5027 Pottsville Pike
Reading, PA 19605-1284